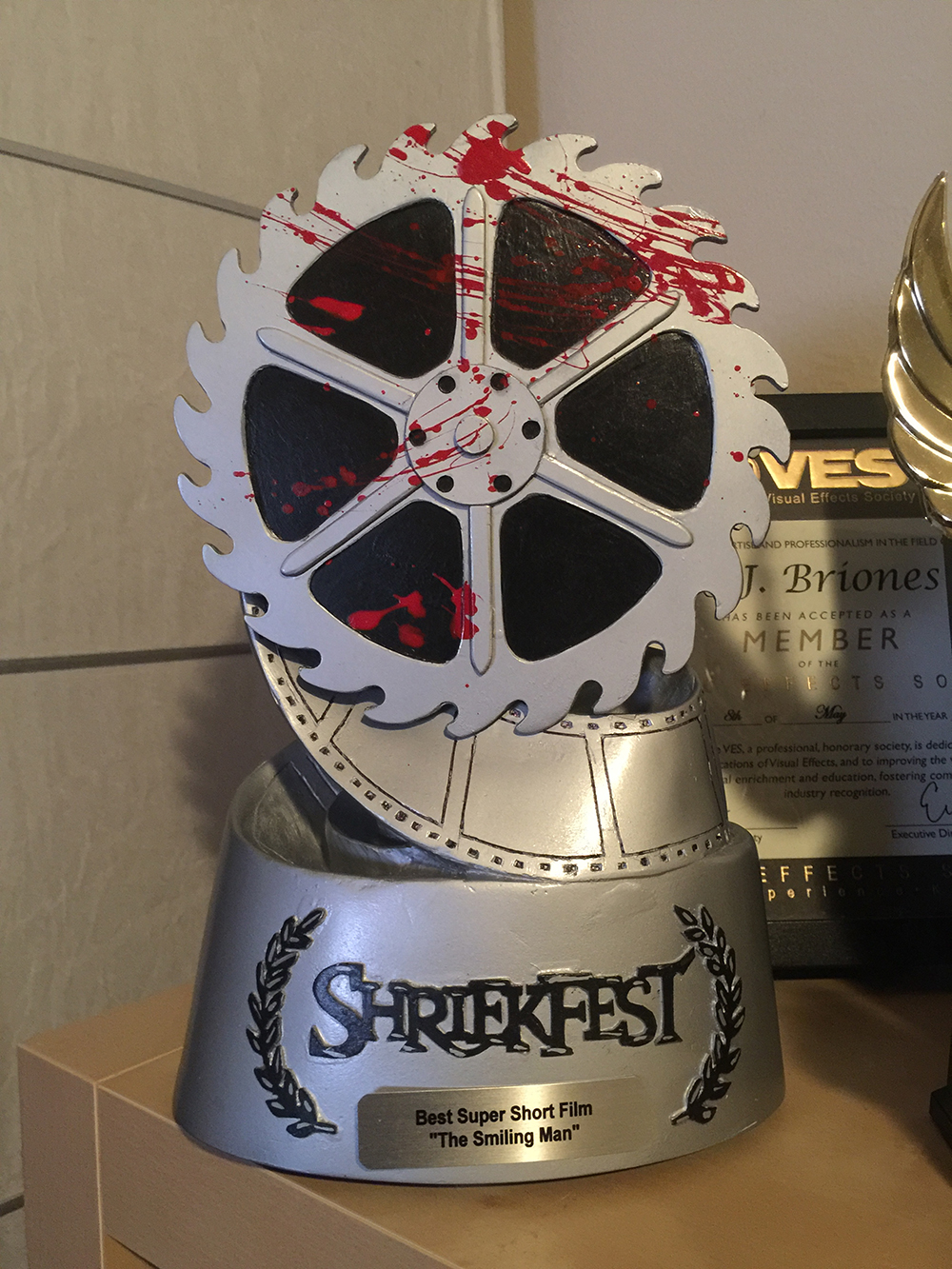 Wow, what a whirlwind weekend!
The Smiling Man took home the award for Best Super Short Film at the 2015 Shriekfest Film Festival! It's a great honor, as Shriekfest is one of the premiere genre festivals in the world, listed as one of "13 Horror Film Festivals to Die For," and among the top "25 Film Festivals Worth the Entry Fee" by MovieMaker Magazine!
It was such a great experience being able to attend the festival, as it's a rare occurrence for me. I met some really great people, filmmakers and genre fans alike, and got to spend quality time in the dark watching truly inspiring and stunning films. Furthermore, it was a real treat to have long conversations about film and the craft of filmmaking with like-minded folks.
It was an honor just to see our little film counted among the brilliant selection of films, so it was a great surprise to find out that we won Best Super Short Film. Huge thanks go out to the entire team who made The Smiling Man possible: from my producing partners Tefft Smith II and Nathan Hopkins, to our brilliant actors Strange Dave, Mellisa Chally and her talented daughter Abbi Chally, our DP David Holechek, the fantastic makeup fx team led by Melanie Leandro, and the entire crew that worked diligently and passionately, enabling us to shoot on time and (mostly) on budget! On the aural end of the spectrum, our genius composer Vivien Villani provided the eerie and haunting melodies and the great Jamey Scott filled in the soundscape and ensured that our mix sounded absolutely amazing. I also should thank our vendors SimpleDCP and Gotham Press!
Lastly, and definitely not least, the Smiling Man team would like to thank Shriekfest festival director Denise Gossett for running an amazing festival for 15 years! I can't state enough how thankful I am for the experience!
At the end of the day, the awards are definitely flattering, but what matters the most is watching the reactions from the audience and talking with them after the fact. The messages and emails we receive from film fans mean so much to us!
Next up: we will be screening at the Sacramento Horror Film Festival, where Abbi and Mellisa Chally will be in attendance, and in two weeks I will be heading off to Boise for the Idaho Horror Film Festival! Hope to see some of you there!
Meanwhile, for a look at the complete list of Shriekfest 2015 Award Winners, check out their website here: https://www.shriekfest.com/previous-winners/
About Shriekfest
Shriekfest is an international film and screenwriting contest celebrating the work of independent artists in the horror, sci-fi, and fantasy film genres. Los Angeles' longest-running horror festival, Shriekfest is now celebrating it's 15th year. Superior screening facilities, parties, and panels make this a wonderful networking experience for all. Awards will be given in most categories and prizes include cash, product awards, trophies, etc. The festival will be taking place in early October. More information about Shriekfest can be found on www.shriekfest.com, www.twitter.com/shriekfest, and www.facebook.com/shriekfest.